The Smith Family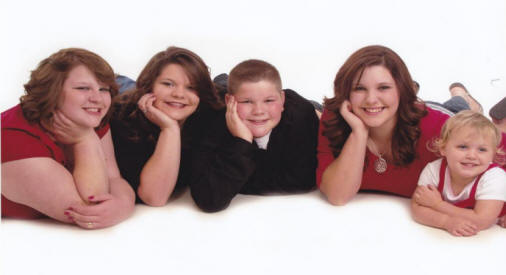 Amber, Anna, Austin, Alyssa, and Emma



A brief biography of the ministry of Ronnie Smith
I was saved at the age of 21on December 17th, 1989.
I met my future wife, Marsha, in February of 1990 and proposed to her shortly thereafter.
I answered to the call of God on my life to preach the Word of God on April 1st, 1990.
I enrolled in West Lenoir School of Ministries in Lenoir, North Carolina in the summer of 1990.
Marsha and I were married on January, 25, 1992. We spent three months in Buffalo, Wyoming during the summer of 1992 assisting a church planting missionary. It was in Buffalo that we found out we were expecting our first child.
We returned to North Carolina in the fall of 1992.
Alyssa was born in January, 1993.
I graduated from Bible College earning an Associates Degree in Christian Education in the spring of 1993.
Upon graduation God led me to pastor New Hope Baptist Church in Moore Haven, Florida. I pastored for four and a half years at New Hope and it was there that the Lord began to place a burden upon my heart for foreign missions.
In February of 1997 I felt the call of God to leave my home land and journey to Northern Ireland as a missionary.
In October of 1997 I turned the church in Florida over to another pastor and returned to my home church, Emmanuel Baptist Church of Granite Falls, North Carolina.
In 1998 the Lord opened up the doors of opportunity to visit Northern Ireland and from there the Lord continued to lead in the direction to get me to that country as a missionary.
Our family was accepted by Macedonia World Baptist Missions as missionaries to Northern Ireland in December of 1997.
I began deputation in January of 1998, visiting hundreds of churches telling them of my desire and calling to go to Northern Ireland as a missionary.
During these years of deputation I re-enrolled in my former Bible College for another two years and earned a M.D. in Theology.
In the summer of 2000 I was fully supported by like minded Baptist churches and was sent out of my home church, Emmanuel Baptist Church, as their missionary to the land of Northern Ireland.
Our family labored in that land for eight years during which the Lord brought together a congregation and established Roe Valley Baptist Church of Limavady, Northern Ireland.
In June of 2008 the Lord gave me direction in heart to return to the states.
Upon our arrival back in North Carolina I was asked to help out in our home church, Emmanuel Baptist of Granite Falls.
The next three years, from 2009 - 2011, were the most challenging of my saved life as I prayed for direction in the ministry.
I had four teenagers in the house at one time. That is equivalent to a biblical trial and testing in itself.
In December of 2009 we were asked to consider taking a baby home with us that was born of a woman unable to maintain a lifestyle that would be conducive to a motherly role.
We accepted this responsibility and have been graced with the presence of Ember Grace Moore being in our lives and counting her as our fifth child.
In September of 2011 Fellowship Baptist Church of Maiden, NC called me to be pastor of the church.
Whenever I use the pronouns me, I, my, there is no way to separate the fact that I have a wife and children who are equally active in my ministry. My ministry has always been infused with my family. To God be the glory.
As of this update I am currently the Pastor of Fellowship Baptist Church in Maiden, NC