Go Baaaaack
Home Our Family Roe Valley Baptist Church
(Page Three)
Baptism
These three individuals followed the Lord in believer's baptism at Lisnagalvin Leisure Center in Londonderry on November 2nd, 2003.
Amber Smith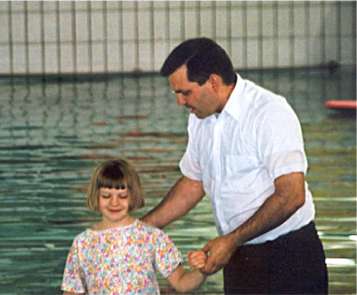 My daughter Amber has been saved for several months.
She liked the pool idea a wee bit better than the river.
It was several degrees warmer, and no fear of fish!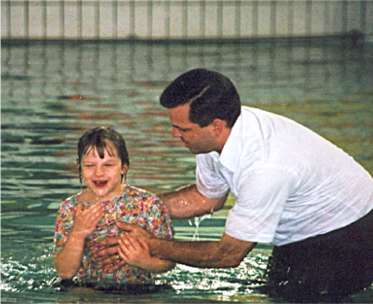 Russell Steele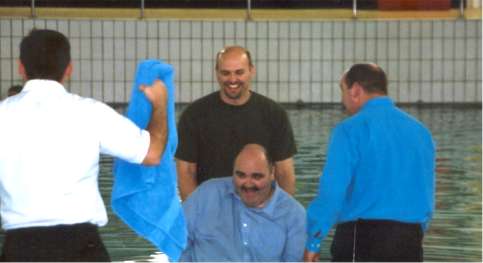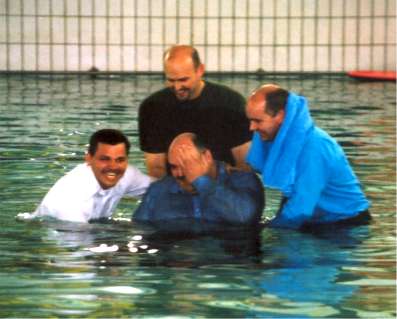 Luke 1:37 For with God nothing shall be impossible
At the age of nineteen Russell was injured in a tree cutting accident that paralyzed
him and confined him to a wheelchair as a paraplegic.
He says that if he had not been paralyzed he may have never gotten saved.
Praise the Lord, He does all things good! Russell was saved in 1999.
Russell has been coming to our church for some time now and has been a blessing to our congregation. He wanted to be baptized back in the summer when we baptized the other men, but the problem was getting him safely into the water and out again. The river was not such a place. Some people would had used their disability as an excuse and given up. Not Russell.
We found a leisure center that could facilitate a wheelchair in the water and hired their pool.
I asked Brian Rebuck and Russell's brother, Rodney, to assist me in the water.
I had never baptized a man in a wheelchair. And honestly, I had never seen a smile on a man's face as big as what was on Russell's face when he came out of the water.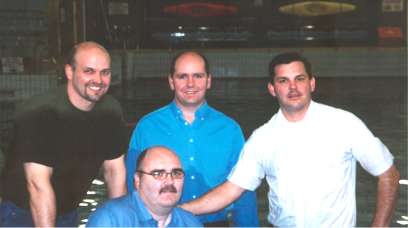 This is another example that being disabled does not mean you are unable.
We give all the glory to God.
Luke 1:37 For with God nothing shall be impossible

Charmaine Steele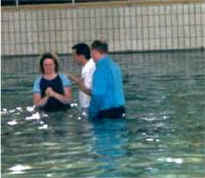 Charmaine Steele, Rodney's wife, was saved some time ago. She has certainly grown in the Lord over the past several months since she has been coming to the church.
In a culture where baptism is usually performed on babies, it takes a lot to get into the water and be baptized as an adult. I praise the Lord for Charmaine and for the stand her family is taking for Christ. It isn't easy to raise a Christian family in a world that is opposite of what Christ and His Word teaches, but this family has made up their minds to do just that.